October 27 2013
1
27
/

10
/

October
/

2013
14:17
Tomorrow, Monday 28th of October will be held Amala's forty nine day ceremony at the Khordong Byangter Gompa, Siliguri.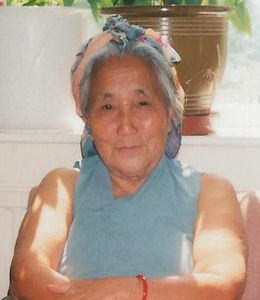 As you are probably all aware by now, the wife of our Kyabje C.R.Lama Rinpochi, Khandro Sangye Dolma Lama had passed away on the 10th September at Shiv Mandir residence. I was then in Europe to attend certain events in Poland, Switzerland and was to visit Umbussi, Estonia. Nevertheless I had to return to India to
attend the last rites of Amala.

Upon hearing the sad news, I immediately contacted Ven. Tulku Thondup Rinpochi in U.S. and took his kind advises, and made a request through him to H.H.Kyabje Dodrubchen Rinpochi to kindly send immediately a team of monks led by an accomplished Tulku. His Holiness had kindly consented the same and early next morning a team of nine monks led by a Tulku was sent to Siliguri.

Tulkus and Monks from Kyabje Dodrupchen Rinpochis gompa organised and led all the religious ceremonies for Amala. Retired Professor.Ven.Sherab Rhaldi who is very well connected with the family and who always considered Amala as his own mother was very kind and came along with them and took part in the entire ceremonies.

For two days pujas ceremonies were held at the residence at Khordong Labtrang, S.N.Bose Road, Shiv Mandir. Amala's mortal body was then brought to Khordong Byangter Gompa on the 12th of September and was attended by many relatives, friends and neighbours. Monks from Tashiding gompa also came and took active part in the entire process till the funeral.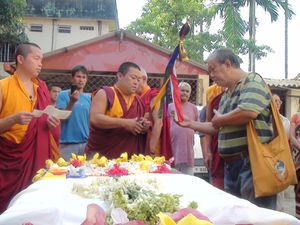 The following days the pujas were held and rituals were made at the gompa till 15th evening. The monks of our Gompa led by their Lopon Gompo Tshering was very active, took part in the prayers and all the activities.
On the 16th of September Amala's funeral procession started from inside the gompa at 8 am, we took 3 rounds around the gompa and then brought her body to the Byangchub Chorten of our late Kyabje Rinpochi.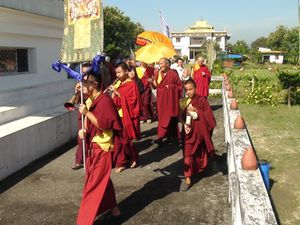 Again after circumambulating the stupa three times, her body was brought to southern end of the stupa, where already a funeral prayer had been prepared with nicely decorated pandal on top of it. Pujas and prayers continued and Amala's body was put on top and the cremation process started.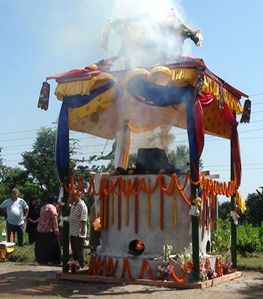 It was a very painful and heart breaking moment for all the family members and relatives to offer their
last respect. Soon amidst prayers and offerings fire was lit and slowly the mortal remains of our Amala as she was popularly known came to an end.

Funeral was complete on the 17th of September when Amala's ashes and remains were taken out from the cemetery and were taken to the river Teesta, for casting away in the water.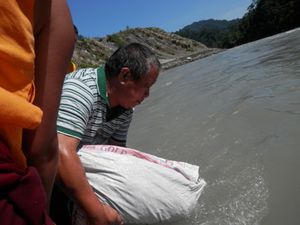 This was at the same place where our Rinpochi's ashes were cast away. All the monks from Chorten Gompa, Gangtok, Ven. Prof. Sherab Rhaldi and family members and relatives were present at the moment.

Few days later, I had the chance to be granted an appointment with His Holiness Kyabje Dodrupchen Rinpochi at Chorten Gompa and took his kind advises on certain issues and matters. On that occasion Rinpochi had kindly advised me to build a Bodhisattva Stupa at the same place where Amala was cremated, in respect of her contribution to our Rinpochi's family and her continued support to our Rinpochi's activities since they met many years and had shown her love and compassion and respect to so many Rinpochis, Tulkus, friends
and disciples of our late Kyabje Terton Tulku Chhimed Rigdzin Rinpochi. She was genuinely the Amala for all the sangha members of our Rinpochi.


All our family members spread to Japan, United Kingdom, Austria and India request very humbly to kindly join in prayers for our Amalas' departed soul and be together with the family members in the moment of bereavement. As this will be held at the Khordong Byangter Gompa, those who are around in India are
also humbly invited to be part of the assembled gatherings on that day. The Guest house would be open to all who wish to take part on that day for their stay. My numbers to contact are 0091-9933062222/0091-9832049416.

May we all join our prayers that our Amala may reach the Sukhavati land and keep showering her blessings on all of us. All family members would like to convey their sincere thanks to all of you, who had been so kind to have sent condolence messages and remain beside with them at the painful moment of losing their much
beloved Amala. I regret and ask for apologies to all whom I failed to send my thanks to those condolence messages sent individually. I take this opportunity to thank all of you through this blog.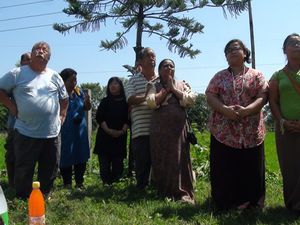 It is my wish to prepare another message for the blog soon after the end of the 49th day ceremony as a brief account of Amala's illustrous life and her time with our Kyabje Rinpochi with photos and accounts. For all the sangha members and for all wishing to know more about our Amala.

May we all live a peaceful, successful, meaningful life and always remain in good health and continue to strife with the practices given to us by our late Kyabje Terton Tulku Chhimed Rigdzin Rinpochi. I hope very much that I shall also soon be able to officially announce the re-incarnation of our beloved Rinpochi.
Tulku Ugen Chencho Lama

OM SOTI
LA MED TSO KYE GYAL WAI RING LUG CHOG
KA TER MIN DROL MAN NGAG SAM MI KHYAB
PEL DZAD CHI WA MED PAI RIG DZIN JE
ZHAB TAN DZAD THRIN TAG KHYAB LHUN DRUB SHOG.