September 21 2013
7
21
/

09
/

September
/

2013
19:37
This message is to inform you that the rituals at Gompa organised by Tulku Ugen for Amalha went well and without obstacles. Lamas from Tashiding came down to help prepare the ceremony they were then joined by a Tulku from Dodrupchen Rinpoche Gompa together with 7 monks to perform the pujahs. Sherab Raldi was also there, together with Amalha's children and grandchildren and family as well as people from Kadamtala Gompa and neighbourhood.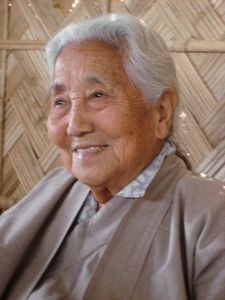 Amalha was brought to Gompa on September 12th, the pujah started on September 16th and her body was cremated behind Rinpoche's Stupa, with the wish to make a stupa for Amalha on that very place.
Tulku Norbu of Khordong Gompa and Tulku Chhimed Dorje of Suckchung as well as Tulku Chhimed Gyaltshen and Tulku Tserang Nyima expressed their condolences and organised rituals for Amalha in the respective Gompas.
In Darnkov on September 11th, Tulku Migmed could request Taklung Tsetrul Rinpoche and Tulku Dragpa to perform rituals for Amalha together.
Now for the next 6 weeks, rituals will be held at Khordong Byangter Gompa every Monday and the 49th day ceremony will be held Monday 28th October.
Sarwa Mangalam