February 27 2010
7
27
/

02
/

February
/

2010
11:32
On February 28th we will commemorate Chotrul Duchen, the event when Lord Buddha performed a different miracle each day to instill devotion and increase merit among heretics.

We will start the day with the celebration of the Guru Rinpoche practice known as the Big Rigdzin at 9 am and many Barched Namsel prayers will be recited to remove the obstacles of people born in the year of the Tiger.

In the afternoon we will all " Play the colors" of the Holi festival in honor of Lord Krishna celebrated all over India. Lamas and sangha members are getting ready.

On this auspicious day we will also celebrate Amala 88th birthday.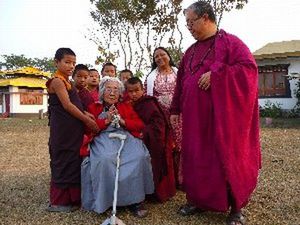 Have a nice day...