January 19 2014
1
19
/

01
/

January
/

2014
12:12
It has been a week already that the 23rd Butterlamp retreat started in Khordong Byangter Monastery. Here are just a few pictures to share the lights with all of you.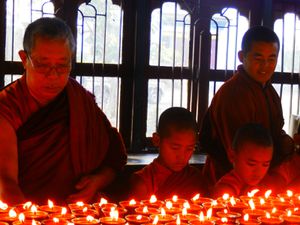 On January 10th, Padmasambhava day and auspicious celebration of his birth the retreat had nicely started thanks to the unconditional support of many of you who responded swiftly at our last call. To mark the start of the retreat and show gratitude, the names of the sponsors were read aloud by Tulku Ugen in the pujah hall of the gompa before the start of the Big Rigdzin.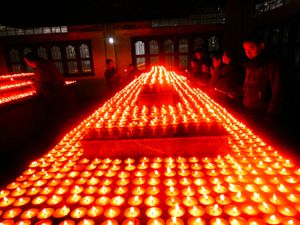 In the mean time we could also gather some sponsorship for the monks. This will be of great help to look after them. At the moment the monastery houses 14 young monks and a Lopon ; 5 of the monks are fully sponsored for this year, another 9 and the Lopon would need your support.
We want to thank particularly the association Khordong from France who accepted to gather the donations from the francophone side, same goes to the association Khordong Germany who accepted to gather the donations from Germany and surrounding countries. They in turn will make sure the funds arrive to the gompa safely.
May the lights offered here be with you all and the blessing of the retreat be shared with each and everyone of you.
Sarwa Mangalam,