April 9 2010
6
09
/

04
/

April
/

2010
09:25
As you may already know Khordong Byangter Gompa has a library with a vast collection of books in various languages. Most of them are from Chhimed Rigdzin Rinpoche's personal collection and cover a wide spectrum of knowledge in general and Buddha Dharma in particular.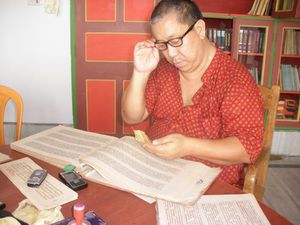 Thanks to the meticulous work of Anne Wanitscheck and Sebastian Schlicht during the year 2004 shelves got made and the books written in European languages got registered and sorted out. Unfortunately they did not have the time to do the same with the books written in Tibetan, Nepali, Hindi and Bengali or Chinese. Which was one of the reasons for the library to remain closed until the time when its full content is registered and ordered.
Years passed by and recently while checking the condition of the older books we realized that some "scholar" worms were finding their delight of the cover of such books and of course some of their pages. But no dramatic harm though as they have been well discipline enough not to eat the words too much.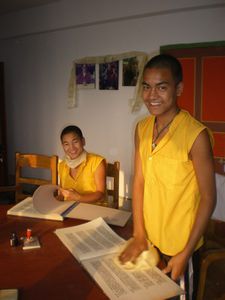 So Tulku Ugen, Alexis and Nathalie together with the help of the lamas have started to take all the books out, chasing the worms, brushing off the dust and stamping each of them. Once this will be done we shall treat the library room to make sure no more worms stay there and then the long process of registration and labeling of each book should take place. It will take time, but that will be one of the ongoing projects for this year.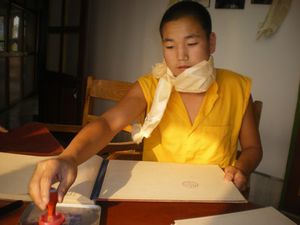 A new computer dedicated for this purpose and the training of the lamas involved will be required in the first place, then later on in order to preserve some of the texts and manuscripts an A3 scan will be needed together with a reliable photocopy machine.
Your contribution in this regard are most welcome.