March 11 2011
6
11
/

03
/

March
/

2011
10:13
Tulku Ugen together with Shashi and all the residents of Khordong Byangter Monastery wish you a very Happy Losar. This year we were very happy to celebrate the Tibetan New Year with most of the parents of our students, giving the feeling of a community.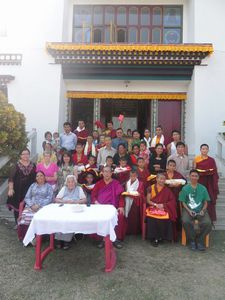 The day started with some rituals and the offering of 1000 butterlamps and of a very big tsog.
On this auspicious occasion the final grades of the students were presented and prizes were offered to the best, while everyone received some presents and new robes and the traditional tsampa blessing was joyfully shared by every participants.
After a delicious lunch the afternoon was dedicated to some entertainment such as singing and dance. Parents stayed over for the week-end and class started on Monday.
"The period starting from the Tibetan 1st day until the 15th day of this lunar month is known as Chothrul Duchen, commemorating the event when Lord Buddha Shakyamuni performed a different miracle each day to instill devotion and increase merit among heretics."