April 23 2012
2
23
/

04
/

April
/

2012
18:06
Chotrul Duchen is always a joyful occasion at Khordong Byangter Gompa. Celebrated on the first full moon of the Tibetan new year.
As a yearly event it is the day we release live fishes . With the donations gathered along the year, we could release the equivalent of 200 kg of live fishes this year. We did it early morning as usual, from the nearby dam by the Mahanenda nature reserve.
Back to gompa we celebrated the day with our usual performance of the Big Rigdzin and before lunch we had great fun celebrating Amalha 90th birthday. Amalha was surrounded by Tulku Ugen, Shashi and Chime who had prepared a wonderful birthday cake.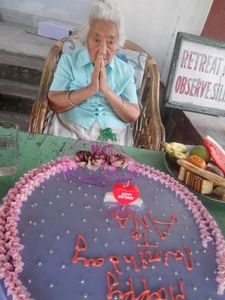 We all received Amalha's blessing and shared the cake with her.
At last but not least armed with the colors distributed to each and everyone by Amalha the wildness of Holi celebration started. This year for the first time we played colors with water.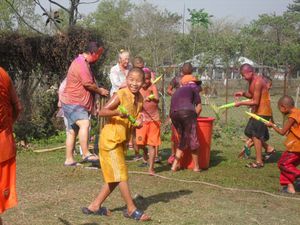 The ground in front of the gompa transformed in a playful and colorful battleground full of joy. Everyone present got happily involved in celebration of this nationwide festival dedicated to Lord Krishna.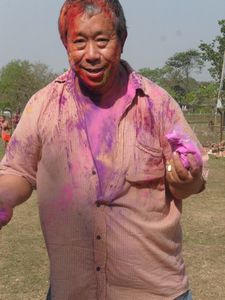 See you next year to play colours together !