April 23 2011
7
23
/

04
/

April
/

2011
12:32
1 <the young monks and their education. Their English and mathematics teacher, Om Sir had suffered of poor health for the past 3 months, so was his aged mother so he could not come anymore. Meanwhile Nathalie started to teach sewing to four of them and mathematics to all>.
2 <for the first time here, wheat had been planted and the harvest has just started, it is a good success and it will be repeated next year>.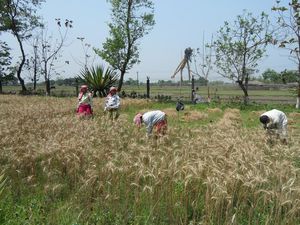 3 <the tomatoes production has also been very good with more than a 1000 kilos sold at the local market>.
4 <a new metal net fencing has been put all around the Gompa and new barbed wire has been put till the gate. This strengthens the overall protection of the land till the day we can afford to build a proper wall>.
5 <the guest house is getting busy with half of the rooms on rent to families who accompany a patient at the local cancer Hospital. Most of them are from the hills and are so happy to find refuge in this beautiful, peaceful and clean environment close to the Oncology center>.
6 <we are happy to announce the birth of two small geese. Their parents were part of a life release 3 years ago, and now they are growing in number>.