July 11 2010
1
11
/

07
/

July
/

2010
00:00
After the diversions of June's various festivals, Monks have taken back their usual daily routine of bringing the cows out early in the morning, morning pujah, breakfast and class until lunch time and then afternoon class, followed by afternoon pujah, bringing back the cows to their shelters for the night and homework to finish it all up.
But some good time is still up in the air. After a quick 3 hours sleep, everybody wakes up at 11pm ready to enjoy another kind of worldwide festival, we are talking here about football.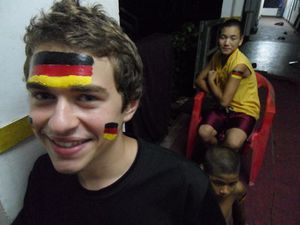 All the monks here became strong supporters of the German team, wishing to win their first World cup through the qualities of their favourite team.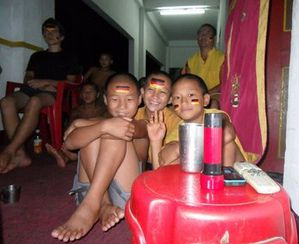 Last night they were all painted up to the colors of the German flag and fully awake and prepared to see their team being qualified for the final.
I let you imagine their sadness and disbelief at the end of the match. The party is over.
But we still enjoy a last game of international football for the final on Sunday.