March 23 2011
4
23
/

03
/

March
/

2011
10:19
This year to celebrate the Chotrul Duchen festival with some meritorious actions we have been working to organize the release of live fishes (Photo Gallery ) in a consequent manner. As some of you know this is an activity that was first started years ago with the release of the fishes that were trapped in the gompa pond and who were facing death every year due to the lack of water in the pond during the month of April. Other lives release actions had been done since but always in a limited scale.
This year thanks to the request and impulse of Laurent Van der Maren during the winter, we worked at making it in a bigger scale. So we first went to meet the executive engineer of the Mahananda Barrage to ask for a written permission as it is a restricted area. Our wish got very positively received and permission was granted.
We then went several times at the local regulated market near Siliguri where the main agents bring live fishes to sell them around the region. All sorts of fishes are being negotiated on daily basis there, live and fresh, clear water and sea fishes. We finally could cut a deal with one of the agent and purchased 320 kg of live fishes which accounted for more than 20.000 of them of 4 different varieties together with some eels.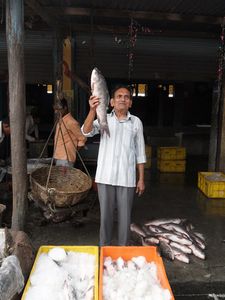 Early morning, the fishes were giving signs of obvious stress as they had travelled all night, so from the market we headed to the Mahananda barrage which is located close to the gompa at Fulbari. There the small truck full of water and fishes started to be emptied while the tsethar ritual was being performed by Tulku Ugen, Lopon Choewang and the monks.
Fishes were caught, weighed once again and then released. It was a fantastic experience to witness their joy and relief at entering the stream of liberation. Some jumped several times; others were diving deep down to disappear from human sight as fast as they could. Deep joy could be seen on everyone's faces as an expression of the shared feeling for taking part in this meritorious act.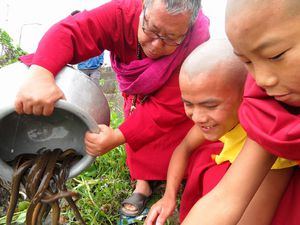 Once the truck emptied and all the fishes released we all made the wish to make it an annual event for our Khordong Byangter Monastery with the help of whoever wants to take part. We now have been assured of the barrage authority support and have the right contacts to purchase live fishes, so it will be easy to organize.
For those of you who wonder what is the benefit of saving lives in such a way we invite you to visit the site www.lotsawahouse.org.The text is translated in English and in French.
Here is just an excerpt:
<In this world nothing is dearer to someone than his or her own life. So no greater crime is there than taking life and no conditioned virtue bring greater merit than the act of saving beings and ransoming their lives…> Chatral Rinpoche…
From today we can invite you to join us in this Dharma activity to fulfill the wish of making it an annual event for the benefit of those who will be liberated then.
Please,contact our email thechhimedrigdzinsociety@yahoo.com
Sarwa Magalam and long life to all.