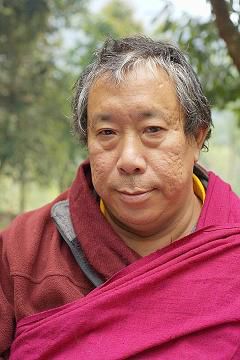 Tulku Ugen Chencho
Head of Khordong Byangter Monastery
and
Dungsi of Terchen Tulku Chhimed Rigdzin Rinpoche
Tulku Ugen Chencho is born in the family of Ven. Terton Tulku Chhimed Rigdzin Rinpoche and Sangye Dolma as the fourth child in the year 1956, on 15th August in Kalimpong, India.
He has been recognized by late H.H Dudjom Rinpoche and late H.H 16th Gyalwa Karmapa when he was a small boy, but all these were kept as a secret and was only revealed to him on his first trip to Tibet together with his father in 1986. On that occasion he was told that he was Tulku of Suckchung monastery and was given a ceremonial enthronement at Khordong Monastery on the 10th day of the 4th Tibetan month, after which the traditional Cham (religious dance) was performed.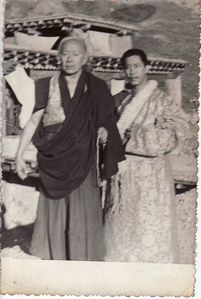 Tulku Ugen Chencho was also confirmed as the most recent incarnation of Vairocana the translator by HH Terton Tulku Chhimed Rigdzin Rinpoche. While editing his own terma of the protectors' pujah, Rinpoche made this information public by writing about it in the terma text he was publishing.
During his childhood Tulku Ugen Chencho has been fortunate to complete his education in Shantiniketan at the renowned Visva-Bharati University founded by the first Indian Nobel Laureate Poet Rabindhranath Tagore, from which he graduated in Indology as his honors subject and got two masters of Arts: one in Ancient Indian history, Culture and Archeology and the other one in Tibetan language and literature.
He joined the Centre for Himalayan Studies at North Bengal University in 1986 as a lecturer and worked there till May 1995. He then left voluntarily his job and the security of a comfortable and reassured life after retirement, in order to help his father fulfill his cherished wish to build a monastery where Byangter order of Tantric Tibetan Buddhism is to be continued and propagated under the structure of The Chhimed Rigdzin Society established since 1978.
During his second visit to Tibet in 1990 together with his father, he has received the entire set of transmission of Khordong Nuden Dorje lineage along with Tulku Norbu at Khordong Monastery. He has received many instructions about pujahs and rituals from his father on many private moments during his childhood in Shantiniketan and during Rinpoche's last years in Siliguri.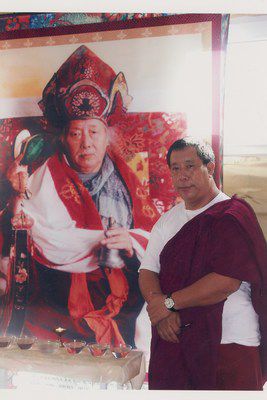 Then on the first day of the Tibetan Losar 2002, while performing the Guru Rinpoche Sadhana at Khordong Byangter Gompa in India, Terton Tulku Chhimed Rigdzin Rinpoche cleared his voice and spoke loudly for everyone present to hear and announced:
"From this day onwards I pronounce my third son Tulku Ugen Chencho Lama to be the head of this Gompa and also to take up activities as my principal regent. Ugen Chencho should dedicate his time in this life to carry out the mission I had undertaken, in India, Europe and Tibet".
Since Rinpoche passed away in June 2002, Tulku Ugen Chencho has taken up the responsibilities and mission bestowed on him as Dungsi Tulku of H.H.Chhimed Rigdzin Rinpoche. He has been instructed by his late father about how his re-incarnation could be found and shall receive instructions in his dreams, on three occasions so that he would know precisely where and when to find him.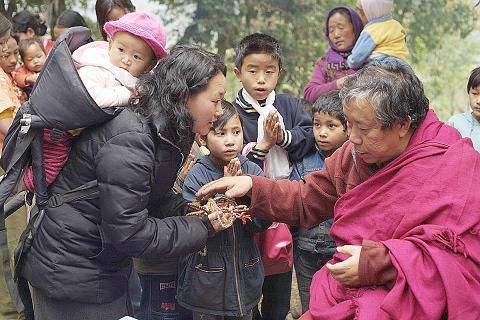 Tulku Ugen Chencho had once dedicated few years of his life for the sake of serving his father, but after his departure he has dedicated his life for the sake of the Dharma which was his own. Since then, he has been endlessly striving to develop and establish Khordong Byangter Gompa in India, keep the sangha together and alive, while opening new perspectives for the teachings of the Khordong Byangter lineage, giving Wangs and Lungs in various parts of the world.