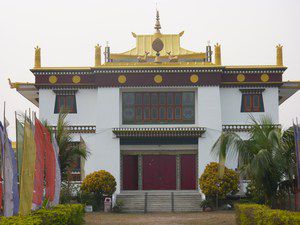 To prevent the decline of Buddhist teachings in general and especially those of his own tradition, Rinpoche had for a long time the wish and vision to build his own monastery where retreats and study should be done.

For that reason

in 1961

he formed the Chhimed Rigdzin Society together with many other great lamas. The patrons of the Society were the then heads of the four main schools of Tibetan Buddhism.
For the Nyingmapa H.H. Dudjom Rinpoche, for the Sakyapa H.H. Drolma Photrang, for the Kagyupa H.H. Karmapa and for the Gelugpa H.H. Gaden Tri Rinpoche Yong Dzin Ling. The vice presidents included Ven. Trulshik Rinpoche and Ven. Taklung Tsetrul.
In 1995, Rinpoche and his son Tulku Ugen Chencho Lama purchased a large piece of land in the name of the society close to the Himalayan mountains of Sikkim and started to build a gompa in December 1999.

In December 2002, half a year after Rinpoche passed away, the gompa was inaugurated by Ven. Kathok Tulku and according to Rinpoche's vision the gompa started to fulfill the aims of the Chhimed Rigdzin Society.